HYDROGEN H2O8 PRE ORDER
delivery before end of 2023
Our flagship hookah is designed to impress with its power and beauty. Thanks to it's low profile, the hookah is very stable and hard to flip. Made from crystal clear plexiglass to let you see the magic inside
Take a deep breath and get yourself this glowing beast for your table and enjoy smooth draw and powerful cooling.
Thanks to wide open lid, you can put lot of decoration inside and pimp your hookah. As well you can open the hookah and clean it very easily. You will easily fit your hand to clean it from inside.
Best features of the hookah
Stability and safety
The hookah is very stable thanks to it's low center of gravity and therefore is hard to flip. No more flipped hookahs and charcoal burns. With use of heat management holder you achieve even more protection.
Decorations variability
HYDROGEN H2o8 is clear tabletop hookah designed with wide open lid for easy decorations and cleaning.  There is also a remote control LED light in the package. You can use up to 4 LED modules to make your hookah shine. Take a deep breath and pimp your hookah.
Cooling performance
The hookah looks cool but it's build around it's performance. Inner tubing is made from copper short and wide for marvelous cooling  and effortless draw. Deep drawn downstem designed to put cooling and filtration on first place. TT shape downstem will splits the smoke into two branches and produce wall of bubbles going trough the whole width of the hookah. See everything that happens inside. 
Materials
Hydrogen H2o8 is clear made mainly from PLEXIGLAS. Downstem and difuzor are made from copper. Connectors are stainless steel as well as ashtray shield and tongs. Silicone hose and plywood carrying box. All to secure maximum durability of the hookah.
Maintaining and cleaning
The body has wide opening lid, which allows you to easy get your hand in the hookah and clean it from the inside. Soft sponge and dishwasher detergent are best. We've got also polishing paste for light scratches cleaning.. ) Copper downstem can take a good scrub to make it shiny.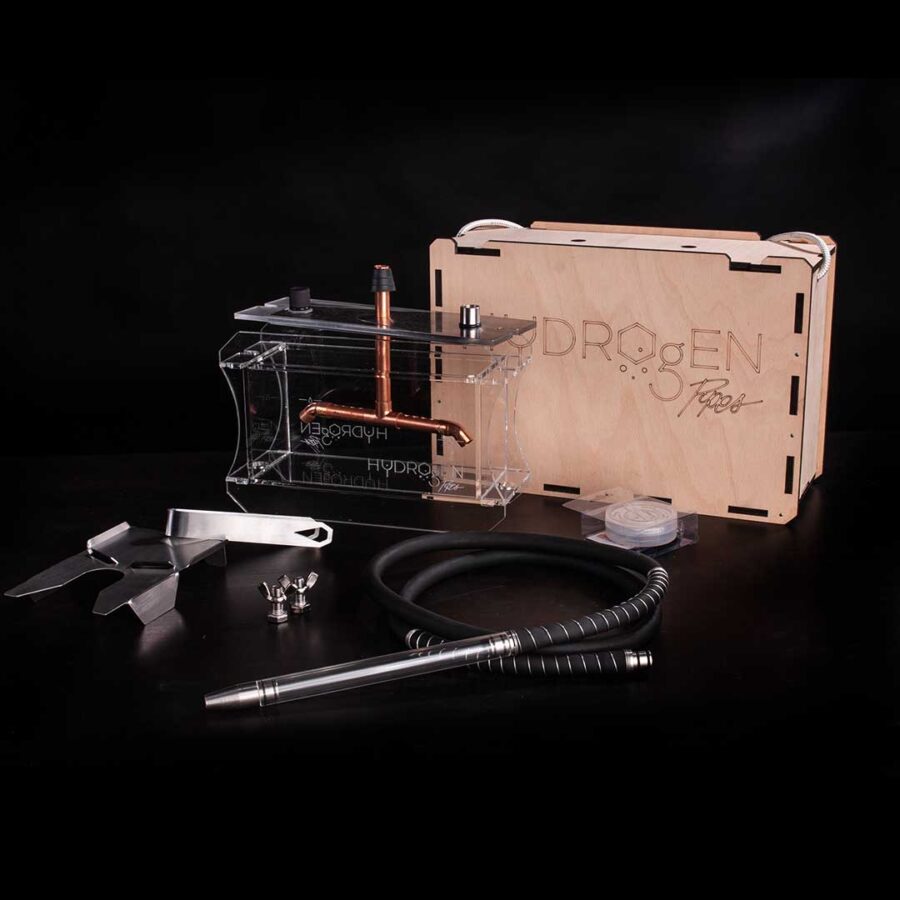 Additional information
| | |
| --- | --- |
| Weight | 4 kg |
| Dimensions | 30 × 20 × 15 cm |
| Hose included? | With hose, Without hose |
| Wooden box? | With box, Without box |